leasing | commercial | warehouse | industrial
About the Waldoboro Business Park
This 60-acre park is conveniently located two miles off Route One in Waldoboro and only 25 minutes from Augusta. It offers three phase power, and is an ideal location for warehousing, commercial or industrial businesses. Currently the business park consists of two large building complexes and several smaller utility / storage buildings. There are 4 primary tenants utilizing over 60,000 square feet of manufacturing / warehouse space with a total of 8 loading docks. Current employment is about 50 people. Adjacent properties are industrial or farming activities, with several residences nearby, but not impacted by the park.

Current business park tenants include:
• a specialty fertilizer business
• a rope braiding business
• a carpet pad business
• a boat interiors business

Development to date has been park financed new buildings or building improvements with renewing 5 year leases to stable businesses.
The business park is eligible for The Pine Tree Development Zone (PTDZ) program offering eligible businesses the chance to greatly reduce or virtually eliminate state taxes for up to ten years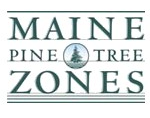 when they create new, quality jobs in certain business sectors or move existing jobs in those sectors to Maine. For more information visit this link.